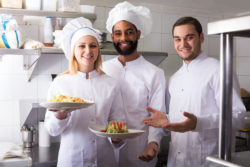 Some states require all employees to have completed an accredited food handler training course. The proof of completion is typically called a Food Handler's Card, License, or Permit.
This food safety training and exam covers the basics of food safety principles, regulations and techniques to maintain a food-safe environment.
Washington, Oregon, California, Illinois, Alaska, Florida and Utah require all food service employees to get a Food Handler's Card.
Several other states, such as Texas, Oklahoma, Montana, Nevada and New York, carry county requirements for passing the food handler's test.

Food Handler Training & Manager ANSI Certification
• Learn about cross contamination, cold and hot food safety, best practices for personal hygiene, and foodborne illnesses.
• Food Manager ANSI Certification - On SALE $99.00 - Valid in all States and for 5 years.
• Food Handler ANSI Training for only $7.00!
The American National Standards Institute (ANSI) accredits courses for Food Handler's Certification. Once you take the course and pass the test, you are a certified food handler. Food handler's cards are typically available for printing immediately after passing the test.