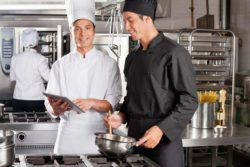 Most states require workers in a restaurant or a non-restaurant food establishment to get a food handler's card. Get started with your food handler training and get the card that you need!
Food Handler Responsibilities
A food handler is a person who is employed to handle food. This includes the preparation, storage, production, distribution, packaging and service of food. These workers are legally employed in food establishments or facilities.
Food handlers are not limited to restaurant workers such as waiters, chefs, cooks and bartenders. Workers who handle food in non-restaurant facilities such as nursing homes, licensed day care homes, schools, long-term care facilities and retail food stores are also considered food handlers.
Food Handler Card Details
A food handler's card is a permit that proves that you have taken the mandatory training for food handlers. It makes you employable in food establishments in most states. Most food establishments require workers to have their food handler card ready within 30 days of hire.
Local health and environmental government agencies enforce strict safety codes for food and establishments. This is to abate and prevent the outbreak of food illness. The Food Handler Card is legitimate proof that you have what it takes to follow those safety codes. These cards are also necessary for records purposes as required of your employer by state enforcers.

Food Handler Training & Manager ANSI Certification
• Learn about cross contamination, cold and hot food safety, best practices for personal hygiene, and foodborne illnesses.
• Food Manager ANSI Certification - On SALE $99.00 - Valid in all States and for 5 years.
• Food Handler ANSI Training for only $7.00!
Exemptions
Managers who already have food protection manager's certification do not need to have food handler's cards. Their certifications are regulated by the American National Standards Institute – Conference for Food Protection (ANSI-CFP.)
An ANSI-CFP certification allows food managers to work in any state. Its validity depends on the jurisdiction which may range from three to five years. Managers will need to comply with the new state's validity if they decide to practice in another state. For example, a manager who was certified in a state where the certification period is five years decides to move to another state with a validity of three years. They will need to cut their certification period to three years in compliance with the laws of the new state.
Getting Food Handler Training
To get a food handler's card, take the Food Handler training course. After finishing the course, present your Food Handlers Certificate to your local authority and pay the necessary fee.
Food Handler Training for Groups
We offer a corporate discount to employers who enroll their workers to take the Food Handlers Training from us. Enroll a minimum of 20 employees in the training courses and get the discount.
Duration of Food Handler Card Processing
After completing the food handler training, it takes only a few days before getting the food handler's card. You can get it within 30 days after your employment date. However, you may print your training certificate as soon as you complete your food handler training.
Food Handler's Permit Validity Period
The food handler's permit is valid only in the state where you practice. The length of validity varies per state. Food handler cards are generally valid for three to five years depending on your jurisdiction.
Card Replacement
If you ever lose your card or official certification, you can get a duplicate by contacting us. We will tell you how to get your duplicate card. Take note that official certificates need at least seven to ten business days to process.